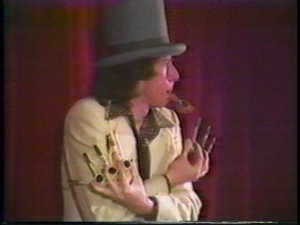 "Work on tricks only for yourself" versus "Work on tricks to please a crowd" is a false dilemma.  Work on tricks for an audience of like-minded space chimps that share your weirdness.
The prime directive is this: get better.  Shun that which doesn't make you a better performer and lurch toward that which does, however clumsily.  Watch other performers, a lotta films, listen to music, and read everything. Novels, memoirs, essays, psychology, hard science, graffiti, magic books.  Read the labels on soup cans.
Take walks.  I hate how this advice sounds like something a preposterous old geezer would say while smoking a pipe, but, sorry, it's true.
When you have a good idea for a new presentation or method, write it down immediately.  No exceptions. Experiment, develop material, practice, rehearse.  Do this for 2 hours a day.  If you don't have 2 hours, try 3.
When you put together a new routine, think of it as testing an idea.  When it doesn't quite work for an audience, that's fine.  You learned something, and you're closer to finding a different idea that does work.  The key point is "learned something" — not "fetishized failure."

Find one magician who's better than you, one magician who's at your level, and one magician who's less experienced.  Get mentoring and coaching from the first, trade notes with the second, and use the third as a cautionary reminder of all the boneheaded mistakes you are transcending.
Making money as a magician is good.  You can use the money to buy cheap coffee, or expensive coffee, or to buy a mansion with a big statue of Houdini — depending on how successful you are.
Here's the thing:  Being a magician is hard.  When I said that, did you believe it?  Ha.