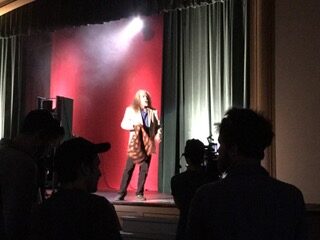 Personally
,
I don't isolate doing shows with a commercial sales message from theater work.  They are thoroughly shuffled together in my brain, and I consider both part of our craft.  As two aspects of one career, they inform, spark, and subvert each other.  I always wanted to be a magician but also always needed to make some money.  So like most pros, I've always charted a route between artisan and huckster.  But there are two big differences.  In theater I feel a responsibility to be excited about things that might have a value in terms of personal expression.  The other big thing, in theater, you have unlimited time to rehearse and perform in front of a paying audience night after night and refine a routine, deepen it, widen it, change things, streamline it.  The thing evolves.  And by the time you really perform in front of critics, you've repeated the performance many times and it's buffed to a high shine.  
Even though corporate clients require approval of new material with a sales message, no one knows positively if it will generate leads or transactions.  A good trick alone doesn't cut it.  The company big wigs, your critics, are the judges, and they are there the very first time you put your efforts to the test.  Everything can be riding on that high-wire act maiden voyage.  If a sales presentation is less than compelling or concise or fails to achieve its objectives or doesn't resonate with who it's intended to reach, executives tend to cut their losses.  This has happened to me.  The expert sign does not hang above my head in devising this sorta material.  Unfortunately, once you convince some entity to consider your services, I don't have a formula to offer that will make one excel.  I've presented deceptions to promote an odd array of items from laser beam toe clippers to granola made by native Americans in Arizona to a Skokie Illinois hair-restoration product.  Today I'm here to offer two of my best examples. 
Daiken Global.
It was 2017.  The company needed a particularly memorable and hard-hitting demonstration on the benefits of the institutional version of their TiO2 air filtration system, in particular, because their target audience was public schools, and it usually took one to two years for the bureaucratic red tape to be unrolled between the time a school became interested and the time that the sale actually materialized.  Initially I appeared on behalf of Daiken Global at a conference about improving health in the Los Angeles Unified School District, at the time the largest collection of schools in the nation.  Thereafter I did encore performances at similar gatherings for the San Francisco School District, Chicago School District, and Miami-Dade School District.  If you are a magician, you will recognize this customized presentation of the age-old Sands of the Desert trick was the key to my success.
I filled a clear glass bowl with water and said, "Everyone enjoys cool clean water."  I stirred the water with a bare hand and the liquid instantly turned black.  "But humans can get sick when they drink dirty water.  The problem with DIRTY AIR that's unsafe to breath is that the pollution is often invisible."
I displayed a clear drinking glass that contained blue sand and poured it into the bowl of black water with the flourish of a TV chef, and gave it a stir.
"Invisible pollutants like man-made gasses and chemicals can lead to diseases like bronchitis and can hurt people with asthma."
Next a glass of green sand was stirred into the bowl.
"Inhaling fine particles of smoke, bacteria, and mold spores can lead to chronic obstructive pulmonary diseases and respiratory infections."
Lastly, red sand was dumped in the mix.
"Germs, viruses, and fungi, can cause allergic reactions and make it hard for children to grow properly."
I reached into the black water with a bare hand and pulled out a fistful of dry blue sand which cascaded from my fist into the glass from which it initially came.  
"Currently air purifiers with HEPA filters rule the market and can help reduce pollutants like man-made gasses and chemicals."
Again my nude fingers stabbed the murky depths of the dirty water and came out with a pile of dry sand, and released a shower of green.
"Activated carbon and ozone-based purifiers are experiencing growth and are effective in eliminating smoke, bacteria, and mold spores."
At last, my naked hand dove in and emerged with dry red sand in its grasp that avalanched into its container.
"But only photocatalytic oxidation and the use of UV light to react with a catalyst – TiO2 – does it all.  Daiken TiO2 is the technology of the future because it oxidizes bacteria, viruses, fungi, odors, and volatile compounds and cleans the air by breaking the pollutants down into harmless carbon dioxide and water molecules."
I stirred the bowl of black water molecules and the liquid became clear again.
"Daiken Global is the leader in TiO2 and customized solutions to meet the individual needs of your school.  The World Health Organization estimates that on planet earth almost 700,000 children die each year due to air pollution.  Arrange for an evaluation of your school's existing equipment and receive a written review including the best alternative for immediate improvement.  Daiken representatives are standing by so you can take advantage of this opportunity."
ExxonMobil.
Hospitality suites come in a variety of sizes.  I've seen them as small as an ordinary double bed suite and as large as a hotel ballroom.  It all depends on the style of the client and the size of their budget.  Trade show attendees, and their friends and relatives and hangers-on, look at hospitality suites as places to drop in unannounced, eat a lotta free shrimp, indulge in an open bar, and pretend not to be freeloaders or looky-loos.  Although food and beverage were involved, in the case I'm about to describe, attendance was strictly an invitation only affair for a specific clientele.  My job was to entertain these select crowds as they sat on raised platforms, and make them enjoy hearing about the ExxonMobil line of polymer nonwoven fabrics.  I did that with nine half-hour performances over a three day period at the LA Textile Show.  The pitch was included in my closing routine, a version of Keith Clark's Silks Supreme Act published a million years ago by Silk King Studios.
I lit a match
–
then, carelessly flicked the match away, and a square yard of fabric appeared at my fingertips, as this happened I said,
"ExxonMobil is the leader in fire-retardant performance polymer nonwovens!"
  I pulled the fabric through my right hand, twirled it into a loose rope while talking about splitting it along its fourth dimension, as a second yard of fabric appeared,
"Achieve Advanced PP and ExxonMobil Extra PP…"
I tied the two together, tossed them into the air, and a contrasting colored yard appeared tied between them,
"… and PP Vistamaxx!"
Untying the three, I counted them, "One, two, three, FOUR, FIVE SIX!"  But the count was greeted with a laugh, to the audience it was obvious that there were only three pieces of fabric.  "SIX!" I persisted, and another bunch of three split off.  I slowly and fairly counted the additional three yards of fabric while saying, "Popular applications include surgical drapes, disposable bedding, and hospital apparel."
I placed three yards on a chair to my right, then knotted the other three together in a string and placed them on a chair to my left.  The knots mysteriously passed from one set of fabrics to the other, then the knots vanished entirely.  "Not just fire-retardant, but also antistatic, non-skid, water repellent… and knot resistant!"
Once again the yards were counted and seen to be separate, but when they were tossed in the air, they descended tied together by a single knot, as I caught them, I said, "I lied about the knot-resistant part." 
Smiling, I stroked the knotted bunch, and from them a second bunch of six square yards of contrasting colors appeared.  Counting these, I "split-off" another bunch
–
and counted again
–
eighteen square yards
–
produced from nowhere!  As I was doing this, staggered between my count, I said… 
"ExxonMobil Product Solutions is the leader in performance polymers for a number of product categories from coveralls, jackets and coats to surgical drapes and gowns, medical protective gowns, face masks, shoe covers, disposable bedding and hospital apparel, sponges, pads, wraps, and filtration media.  
After a deep breath came my final words…
"When you think of world class polymers that provide the highest quality barrier performance, think of ExxonMobil Product Solutions, Achieve Advanced PP, ExxonMobil Extra PP, and PP Vistamaxx!  ExxonMobil is the leader in performance polymer nonwovens!" 
As you've rightly guessed, the special fabrics I was promoting are a petroleum product.  It was back in 1999 when I did this gig.  That was the year Exxon and Mobil merged to form ExxonMobil Corporation, about a decade after the tragic Exxon oil spill had occurred in Alaska, and at a time that there were those talking about how the industry should be doing its part to limit climate change by pumping less oil.  It took me a little longer than some to become aware that ExxonMobil and other fossil fuel companies don't want what's best for the earth, they mainly want what's best for them.  When an opportunity arose to work with the company again, I was unavailable due to a prior commitment.  It was a nice way of saying I wasn't interested after reading ExxonMobil was lobbying against ambitious renewable-energy targets and were actively pursuing permission to drill in our national parklands.  One of their suits was quoted as saying, "Spending money on things like diversity and climate mitigation doesn't impact the bottom line and are the cause of most of our country's problems today."  Not a company I wanna work for anymore.  But since I've enjoyed many other corp gigs and showcased a number of diverse products for a variety of different companies.