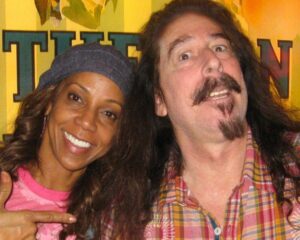 The day started superbly. I appeared on an episode of The Talk tv show with Sara Gilbert and Holly Robinson Peet, promoting my new book I Lie for Money and it went very well. I had done an early morning phone interview with Jack Shalom in NYC on his Arts Express radio program that was a success.  I felt like hot stuff and had an attack of coolness that I'd aspired to my whole life.
As I was boarding a tiny, somewhat frayed plane to get me to a book signing at the San Jose Barnes & Noble, the producer of The Talk called to tell me that some other people on the show were upset at the direction of their segment. They decided not to air the episode. I received apologetic texts from Sara and Holly.  Had Sara and Holly and I not met at Magicopolis years earlier my guess is there wouldn't have been any texts.
I was thinking, "Is it dishonest to say I was 'on The Talk,' even though it was just 'studio audience' The Talk?"
Shortly after takeoff I was in the restroom when Captain Bob the pilot broke in, "We're experiencing some mild turbulence…" Then the plane dropped abruptly, my face smacked the wall, blood streamed out my nose down my white shirt, and I urinated down the front of my beige trousers. 
My seat was next to an elderly woman who spoke no English. Her terror was obvious in the finger imprints she left on the arm cushion.  The plane became increasingly unstable. Items flew from the overhead bins. Suddenly, the dingy yellow oxygen masks dropped down and danced around people's faces. The plane lurched up and down. Our heads hit the ceiling. I couldn't feel my ass.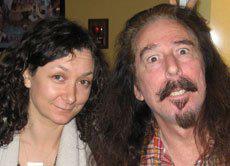 With strike precision, the lady next to me started to vomit. It was Exorcist vomiting, explosive and surprising from such a small woman. The barf bags must have been made to scale for little planes. They were more like sandwich bags with little wire fasteners.  She filled hers and then mine.
People were cursing and praying out loud. We were toast. It went on for several minutes, which felt like an hour. For a day that began exceptionally well, I reflected that it had really gone downhill precipitously. Suddenly, the plane righted itself.
The Barnes & Noble guy met me at the gate and asked when my appearance on The Talk would air. I told him I got screwed as he focused on the fact that I was colossally decorated with blood, pee, and vomit. 
Throughout most of my career there were no Insight Timers or Calm Apps, and I didn't use whey protein or Keto or slap my ass seventeen times a day with laminated hay. It is so important to say these words while also feeling love in your heart. "All this fucking shit is the price of admission to accomplishing my goals as an artist."  
No matter who you are, even with a full calendar of shows, private-jet travel, first-class accommodations, and an annual income in the millions, life itself can bring anxiety. Most of my shows go great and onstage I usually feel pretty good. Other times I'm sick or have a terrible headache. Maybe I had at fight with Bozena and we can't stand each other. My friend called and asked me for money. Or I'm at the end of my emotional rope and don't wanna be alive.  Well, that's too bad, because tonight I've gotta sign some books or entertain an audience or do whatever other obligation is required. It doesn't matter if you're doing this gig or that gig, if magic is your passion you give them that love. And in return you feed the personal addictive pleasure of watching people watch you. 
No matter how unhappy I may be at any given moment, when I think about how lucky I am the worst situations turn around. As time goes by it is more and more clear to me that the really difficult parts of life are what make you a better person and a better artist.