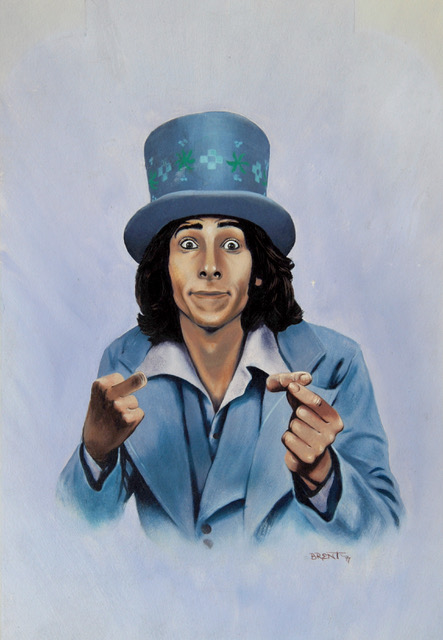 By the time I graduated high school in June of 1973 I was on the fringe of the LA rock club scene – opening for bands like the Spencer Davis Group at The Whisky on the Sunset Strip and Cheap Trick at Starwood in West Hollywood. At the Corral in Topanga Canyon I opened for The Flying Burrito Brothers, The Eagles, Neil Young & Crazy Horse, and Little Feat, among other groups. My routines were based on the hippie and free love era and especially drug and counterculture movements.
During the show, several big bouquets of marijuana appeared from nowhere then vanished in a puff of smoke. I snorted tablespoons of white powder, and as a finish to the bit I grabbed my nose and a long stream of salt-like stuff poured out. One by one eight smoking pipes magically appeared between my fingertips, which made me dry as a bone and "gave me cotton mouth," causing me to spit out dozens of cotton balls. It looked like I drank a huge thirst-quenching pitcher of beer in a fraction of an instant to soothe my parched throat. I pretended to be a little stoned while I did these and other drug-inspired tricks, in the same way I assumed Dean Martin "acted" drunk when he sang songs.
Among my plumb assignments were a charity benefit for the National Organization for the Reform of Marijuana Laws at the Playboy Mansion, a party thrown by Elton John on the back lot at Universal Studios, and an appearance at the National Fashion & Boutique Show in New York for Glass Head, a bong manufacturer. My days as an on and off stage stoner are a million years in the past. Now I mostly sip tea in hope of a minor caffeine buzz. Today I rarely even drink alcohol and am far less fun but I get more done, and at my age the less you fall over the better. More about Highdini in my book I Lie for Money.