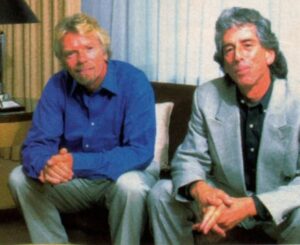 Maverick business magnate, philanthropist and billionaire entrepreneur meets maverick magician. The brand name "Virgin" arose forty plus years ago when a teenaged Richard Branson formed a record shop and he considered himself a virgin in business. As magicians we always try to give our surprises the illusion of "the very first time" and that's what this experience was all about. 
Once upon a midnight dreary, as I pondered weak and weary – No, wait a minute, that's not how it started. In the first place it wasn't midnight. It was about 9:45 AM and I was practicing the Push Off Second Deal, when I got a call… 
"How'd you like to go to New York for a day and earn a ton of money?" 
"Can I weigh it myself?" I said. 
"What?" I've dealt with this guy on the phone many times over the years, and still occasionally do… but he has never been the world's greatest straight man. 
"But all seriousness aside," I said, "what's up?" 
"Well, if I were in your shoes, I'd jump at the chance to do a show for Richard Branson." 
` "When?" 
"Day after tomorrow." 
Sure, it was last minute… did no one else want to do this? Did someone drop out? Who said no already? Do I want sloppy seconds? That is the kind of thinking that has kept me out of the big time my entire career. This was obviously a good thing. I needed the work, I knew I could handle the assignment, I was in, and I couldn't really believe it was happening. It felt like I'd won some kind of prize. I was excited to be alive. 
There was a cool perk that sweetened the deal. Since a couple of LA big shots were also being flown out for the event, along with them, I was invited by Richie (do you like how after only a few paragraphs I've started calling him Richie?) to be whisked there and back on a private jet. A flying living room with leather armchairs, a coffee table of polished wood, a sharply focused TV set, a small shelf full of books. Very homey. 
The crew consisted of the pilot, co-pilot, and a fashionable young woman was the flight attendant. I would have been excited even if they'd asked me to be the flight attendant. They all wore welcoming smiles and uniforms with the Virgin logo on their right sleeves. The jet's microwave was working, and we were served what was described as "a small lunch" – smoked Scotch salmon for the appetizer, followed by Caesar Salad, sautéed duck with wild mushrooms and rice pilaf, and finally chocolate torte with fresh raspberries on top. 
It was 1995 and Mr. B was opening a large-scale record store in New York City, the Virgin Megastore in Union Square. I wrote "record" store, but at this point vinyl was out and CDs were in. The engagement was a night before the opening hotel suite party, a small bash to celebrate the new enterprise, for Branson and almost fifty of his cronies. Alan Alda and Martin Scorsese were at the soiree, along with some theater and music crowd, a few fashion models, several high-powered Wall Street types, and fortunately, a handful of humans that were a little rough around the edges – such as myself. I'm a jaded kinda guy, but not that jaded. It was one of those "kid in a candy store" sorta gigs where I basked in the ambience of the surroundings. 
I was informed that Richard was a big magic fan, had a great sense of humor, and that I was encouraged to really push the envelope with my comedy. With less than fifty-seven hours notice, for this one time only gig, I worked out a special one time only hunk to add to my repertoire. I had that odd itchy excitement, the adrenaline working up my heart and soul, ready to go out and do it. 
The suite was packed long before the start of my act and the atmosphere of the party was electric. They came for a good time and there was almost nothing I could do to stop them. Right from the start they cheered and laughed and applauded.  I developed a fresh routine with CDs especially for this engagement.  My plan had been to hammock the new bit between two solid routines at the end of my show, but the CD hunk was so well received, I left well enough alone and it became that night's closer.
In the aftermath of this entirely wonderful fluke of fate that allowed me entrance to the rare and unique Branson world, I got to spend about ten minutes alone with the man. Some part of me felt like I was imposing on this important multi-billionaire, but our conversation flowed very easily. You can't help but love him when you meet him in the flesh and he definitely has that indefinable charisma people talk about. 
He told me stuff that wasn't part of his public narrative and I got to know him a bit. It was emotional for me to feel like his pal in some small way, and even more so when he revealed that he was an amateur magician himself, which made it seem like we shared a history of sorts. What was important about the situation was that I felt like Branson and I met as equals. I didn't feel small, but at the same time I knew we wouldn't be talking the next day and he wasn't going to let me know when to come by his house for dinner. 
Richard confessed he had only one bit that he actually performs once in a while – the wristwatch steal with a hypnosis presentation – a skill that at the time had recently proved to be a valuable asset. In thinking about this, even now, it seems psychologically – getting someone to focus on being hypnotized – could be a distraction that would make that person easy prey for the theft. I don't know if this presentation is an origination of Mr. B's or not. But I like to think it is. What I was told was – not only a financial adventure, but also the stuff that magic legends are made of – and just another reason why the Virgin boss is a business superhero. Here now, in almost all of his own words, is the story Richard Branson related to me that day. 
"It was in France at Airbus. I was there to close a Virgin deal we'd negotiated to be the first to acquire a fleet of new breed jumbo jets. As the executives were assembling, I asked the CEO if he thought it was possible that I could hypnotize him." 
"This gentleman had a no-nonsense no sense of humor reputation, so my assumption was his response would be no. – He not only said no, he stated emphatically that he didn't even believe there was such a thing as real hypnosis. So I proposed a little one-sided wager." 
"A crowd had collected around us by the time I said to the chief, 
'If I can hypnotize you right now, and if you truly believe you've been hypnotized, – give me a three million dollar discount on our deal.' Everyone was dead silent while I did my wristwatch steal, under the guise of pretending to hypnotize the boss. Long story short, he was taken by surprise, completely fooled, and the wristwatch steal earned me three million dollars." 
Not a bad score. If I'm not mistaken, it was Francis Carlyle who innovated the wrist watch steal, and my guess is he didn't earn three million in his entire career, let alone doing his origination, originally published way back in the original Stars of Magic series. Not certain if there is any sort of lesson in that. 
But the lesson here – is that when offered a last minute gig, don't say to yourself – Did no one else want to do this? Did someone drop out? Who said no already? Do I want sloppy seconds? If you need the work, go for it. Though the odds of ending up on a private jet to a gig for Richard Branson (I mean, Richie)… are still very small, there is good work out there.