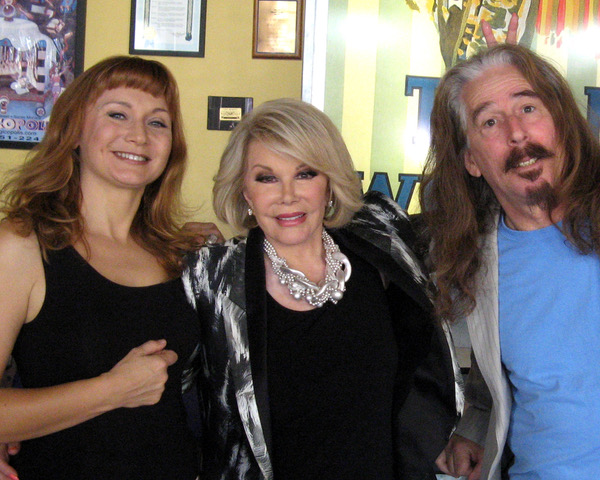 Joan Rivers, the legendary comedy icon, was, on stage and screen, a hilarious, screaming, yelling, cursing, extremely vain, self-deprecating, acerbic, ribald, egotistical personality who's politically incorrect in every way possible. Offstage she was an absolute sweetheart and a delight to work with, same as her daughter Melissa.
Late September 2013, I got a call from producers of the reality series, Joan & Melissa: Joan Knows Best? They said Penn Jillette had recommended Bozena and I to play ourselves on a magic-themed episode that he and Teller would be appearing in. I love Penn & Teller and am a big Joan Rivers fan. So, without hesitation I told them yes. This photo was snapped when we wrapped the episode.
Bozena and I worked two days on camera with Joan. There's an entire chapter about the shoot in my book I Lie for Money. After the goodbye and thank you, Joan took a humongous multi-jewel encrusted gold ring off her finger and gave it to Bozena as a gift. As you may have gathered, I am very fond of the Rivers girls. What Bozena and I witnessed of the chemistry and relationship between Joan and Melissa was inspiring.