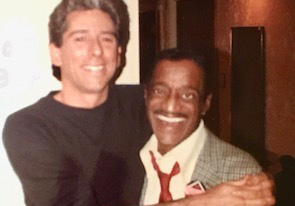 I owe the pashas at Dick Foster Productions, the big cheese Vegas prodoooosas of Spellbound, a casino show I was featured in at the end of the eighties for work that lead to hanging with Sammy Davis Jr. after one of my performances for them at Harrah's Tahoe. 
Sammy sprang into my dressing room and said, "Excuse me, can I have your autograph, man?"  I almost shit my pants with excitement.  Sammy then fell apart laughing.  When he'd recovered from his mirth he explained, "That's happened to me so often and I've always wanted to do it to somebody else."  When I asked, "Who should I make that out to?" He laughed and said, "I'm Sammy Davis Jr." like I didn't know who he was as he extended his hand. – Then he says, "Just make that autograph to the only black, Puerto Rican, one-eyed, Jewish entertainer in the world." 
I immediately gushed like a teenager and told him how much I loved his work and a lot of other things he had heard too many times.  There are a handful of others but Sammy is special to me because he was the first superstar I met who I not only made laugh, but whom I also confessed to, with excruciating embarrassment, that I wanted to be like. He responded that he thought I was a natural. What!? A natural? Sammy must be kidding, I thought.  But he might not have been kidding since he laughed a lot at a lot of the stuff I adlibbed.  That evening was not long enough for me.  I can honestly say if I dropped dead at that moment I would have lived enough.