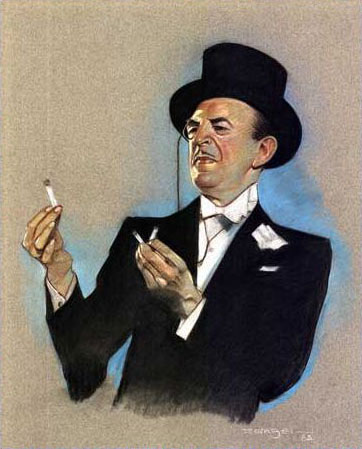 In sixth grade I was a regular at Joe Berg's, a secret magic store in Hollywood. Not a street-level store with a sign—it was hidden upstairs in an office building. That's where the late great Harry Blackstone Senior fooled me with a card trick, and where I first heard of Cardini, the superstar vaudeville magician.
The store's owner, Joe Berg, was a pudgy little man that never drank, never smoked, never wore a hat, and was a very clever inventor of magic tricks. He really cared for his customers, but at the same time he seemed to be the world's worst businessman. I'd often hear him say things like:
"I'm sorry, that's not for sale." "No, this just doesn't fit your personality." " . . . beyond your skill level." "…isn't for you…"
cigarette dropper, a device that hung under your coat and secretly fed lit cigarettes into your hand. It was a rusted used prop, covered in dust, but Joe wouldn't sell it to me because he thought I was too young to play with lit cigarettes.
Joe said, "No, no, no Steve. No can do! Eleven-year-old boys don't smoke cigarettes. It's wrong for you. Forget it. Go with this Appearing Bouquet of Feather Flowers."
"I'm not a girl. I don't want feather flowers," I think I said. "I want the lit cigarette dropper."
After a few minutes of pleading, it was apparent Joe wouldn't change his mind, but I had a plan. Every once in a while Joe had to take his wife to the doctor, or for some other reason couldn't be at the store. And then Joe's son, Ronnie Berg, was in charge. Ronnie would sell anything to anyone at any time. After a million visits, one day I walked in and Ronnie was minding the store. Here's how the conversation went with the man who introduced me to the brilliant work of Cardini.
Ronnie said, "…perfect for you Steve. When a young boy smokes it makes him look more mature and sophisticated, like a man of the world! And this lit cigarette dropper is in a class by itself! It's a handcrafted masterpiece created by an English artisan for Cardini. Cardini! The highest paid ever, superstar vaudeville magician. It's the only one of its type in existence."
I had no idea who Cardini was, but I was very excited. Cardini owned this, and he was a superstar! He touched it and then I touched it. Soon I'd be the highest paid superstar of magic. Then Ronnie elaborated.
"The late great Cardini was friends with my father, and on his deathbed, Cardini gave Joe this treasure. I wish we had another one so you could get a spare. But this is the one and only one on the face of the Earth."
When the deal closed I was trembling! I possessed Cardini's Very Own Personal Lit Cigarette Dropper! Cardini, the former vaudeville superstar! I thought, It's like in the movies!
Twenty-five years later at a Magic Castle swap meet I saw another lit cigarette dropper, identical in every way to the one I owned. And the guy said, "There's a great story that goes with that…"
"Let me guess, on his deathbed, Cardini gave Joe Berg this lit cigarette dropper. There's not another one like it."
We both cracked up when I told him I got the same Ronnie Berg story. That Cardini must have been awfully busy on his deathbed. What's even funnier and more significant to me is the fact that Ronnie gave me the deathbed story in 1967, but Cardini didn't actually pass away until 1973.
The one and only time I used the cigarette dropper was when I was about thirteen. I had somehow gotten in with a group of guys who were a little older than I was, and more sophisticated. They knew a lot of teenage girls, and through them I got invited to a party at the house of the most popular one around. The girls were all several years older than me and I had secretly hoped that a cute female would fall insanely in love with me. Instead a cute girl asked me if she could bum a smoke.
Inside the dropper was a little battery with a glow plug that kept cigarettes burning so that when you made one appear you could instantly puff on it and real smoke would come out. I had the dropper hidden under an open vest above my waistband.
My left hand provided the perfect misdirection as my right hand secretly reached for a lit cigarette.
At the same fraction of an instant, with a deep breath I sucked in my stomach; as a result, a space opened at the top of my trousers, the gimmick jiggled, I fumbled, and the red- hot burning cherry of a lit cigarette fell down my pants and lodged itself in my underwear.
My privates were burning, I was uncomfortably wiggling around, and smoke was coming out of my pants. I was embarrassed, but fortunately the girls laughed and seemed to think my smoking pants and wiggly little dance were all part of the act. I had never had a more attentive or appreciative audience in my young career. Later I suffered with a big bubbly blister that stung when it popped. I guess Joe was right. I was too young to play with lit cigarettes.